Home
The Arlington Alumnae Association was formed in 1966 and has brought together many fine sisters from across the country to the DFW area.
We welcome all sisters in the DFW area to join us for any of our events this coming year.  We generally have one "business" meeting a year and it is our first meeting, which is also our planning meeting for the coming year.
If you have any questions, please contact us at arlingtonaxid @ gmail (dot) com We look forward to hearing from you!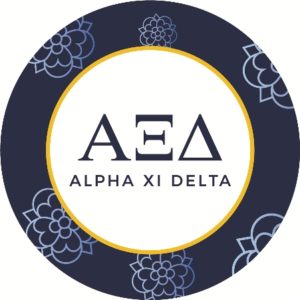 President's Message
Dear Sisters,
A new school year has begun and cooler weather is teasing us with the promise of fall, so we need to make time for each other. We had a good-sized group for Brunch and two of the Zeta Lambda collegiate members shared information about Recruitment. Some of the Zeta Lambda sisters plan to attend Texas Wesleyan home football games with tailgating fun included. It is an exciting time of year!
Leslie Storey was our Convention Representative in Chicago and she had a fantastic time learning and networking with other sisters from all over the country. One of the things she learned is that anytime two (2) sisters are together, that counts as an "alumnae event", so please document your fun and submit those photos for the Facebook page. We have many sisters who spend time together regularly and the rest of us want to know about it!
If you have not checked the calendar page, please do so. Leslie has already posted the dates, times and locations of our scheduled events there, including a link to our Team Page for the Autism Speaks Walk (October 28 in Fort Worth). You will also receive Evites and Facebook information, but this is another place to look for details. Please let us know if you have suggestions for activities other than what is listed. We are always happy to add new opportunities for fun!
Speaking of the website, if you would like to pay your dues online, you may easily do so. Dues are now $40 per year because of an increase from Fraternity Headquarters (now $25). The rest of the money goes to the local Panhellenic organization and we keep a little to cover various alumnae association expenses (stamps for mailings, funeral flowers, etc.). If you prefer to mail a check, please send it to:
Audora Milani
PO Box 172318
Arlington, TX 76003
Many of you know that I have started thinking about life after retirement. After spending five weeks in Spain this summer enjoying the lifestyle and culture, I have decided that this will be my last year as your President. It has been an honor to lead you for the past several years and I am proud of the work we have done and the fun we have had. If you are interested in the position, please let me know. Ideally, having someone "shadow" me this year and take over next year would be awesome, but I will guide you through what must be done to ensure our association remains in good standing.
In closing, I have enjoyed seeing some new faces at our recent events and look forward to spending another great year with you. Hope to see you in person soon!
TFJ,
Terri Wilson